Famous People Who Actually Killed Someone For Real
You may not be aware that some of these celebrities were responsible for killing someone in real-life. Who's on the list and why will surprise you!
1. Matthew Broderick
The Ferris Bueller Actor was driving in Ireland with girlfriend Jennifer Grey when he was involved in a car crash. One person in the other vehicle died. Broderick is pictured here leaving hospital with Grey after the crash. They broke up soon after.
Source: AP
2. Oscar Pistorius
The double-amputee olympic runner received a 5-year jail sentence for killing his girlfriend Reeva Steencamp by shooting at her through their bathroom door during an argument.
Source: Shutterstock
3. Snoop Dogg
Snoop Dogg/Lion was charged in connection with the death of Philip Woldemariam, a gang member who was shot dead by Snoop's bodyguard. Snoop and his bodyguard McKinley Lee were arrested after the MTV awards in 1993. After two years of house arrest they were found not guilty for reason of self-defense.
Source: Shutterstock
4. Vince Neil (Motley Crue)
The Motley Crue frontman had been partying all day when he hit an oncoming vehicle and killed fellow musician Nicholas "Razzle" Dingley. The crash also cause brain damage to two people in the car Neil collided with. His blood alcohol level was .17, but he only served 15 days in jail.
Source: Shutterstock
5. Brandi
The singer and America's Got Talent judge Brandy Norwood got into a multi-car freeway accident that led to the death of Awatef Aboudihaj. At the scene, Brandi kept saying, "I should have stopped."
Source: Shutterstock
6. OJ Simpson
OJ was found innocent of killing his wife Nicole Brown. But most Americans believe he killed her, according to recent polls.
Source: Mugshots.com
7. Keith Moon (The Who)
The Who drummer Keith Moon accidentally hit his friend and bodyguard, Neil Boland, with his car. He was charged with Boland's death and for a DUI.
Source: Wikimedia Commons
8. Jimmy Stewart
The It's A Wonderful Life star served as a fighter pilot in World War II and killed an unknown number of people in combat.
Source: Wikimedia Commons
9. First Lady Laura Bush
The first lady was in high school when she hit another car and killed the driver, who happened to be her good friend Michael Dutton Douglas. The crash was caused by Laura's failure to stop at a stop sign. No charges were filed.
Source: Library of Congress
10. Sid Vicious (The Sex Pistols)
In 1978 the Sex Pistols bassist stabbed his girlfriend Nancy Spungen to death. He was charged with murder but died of a drug overdose before his trial.
Source: Wikimedia Commons
11. Don King
Boxing promoter Don King spent over 3 years in prison for murder, arson, and drug dealing.
Source: Wikimedia Commons
12. Rebecca Gayheart (the "Noxema Girl")
Gayheart was driving in Los Angeles when she struck 9-year-old Jorge Cruz as he crossed a street. He died the next day. She pled no contest to vehicular manslaughter and received three years of probation and 750 hours' community service.
Source: Shutterstock
13. Phil Spector
Spector is serving 19 years to life for the second-degree murder of actress Lana Clarkson.
Source: Getty
14. Amy Locane (Melrose Place)
Locane was sentence to 3 years in prison after she drove drunk and plowed her SUV into a female pedestrian, killing her.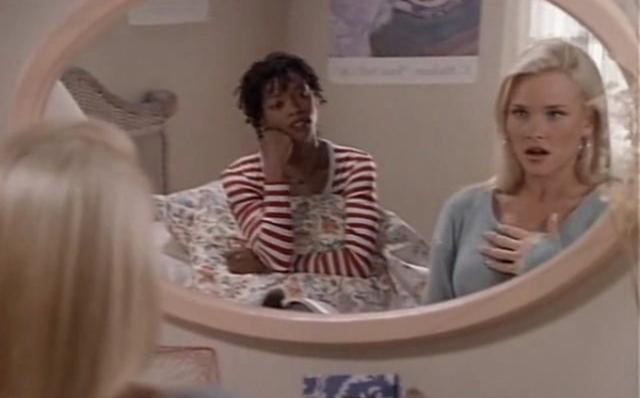 Source: Screenshot
15. Dog the Bounty Hunter
One of Dog's friends shot and killed a man named Jerry Oliver in 1976 in a marijuana deal gone wrong. Dog was outside in the car but was nonetheless convicted of first degree murder, and served 18 months in a British prison.
Source: Wikimedia Commons
16. Johnny Lewis (Sons of Anarchy)
The Sons of Anarchy actor, pictured center, killed his 81-year-old landlady and her cat. He then fell or jumped from the roof and died. He'd previously struggled with substance abuse, but not drugs were found in his system at the time of death.
Source: Screenshot
17. Felicia Pearson (The Wire)
The Wire actress was convicted of second-degree murder at age 14, and served 6.5 years at the Maryland Correctional Institute.
Source: Getty
18. Shelley Malil (40 Year Old Virgin)
The actor received a life sentence for premeditated murder and assaulting his ex-girlfriend with a deadly weapon.
Source: Getty
19. Oliver Stone
The Platoon director enlisted during the Vietnam war and asked to be placed on combat duty, during which time he killed enemy soldiers with a grenade and engaged in helicopter raids. He received the Bronze Star and a Purple Heart.
Source: Shutterstock
20. Ted Kennedy
In 1969, after drinking at a party, Ted Kennedy drove his car off a bridge in Chappaquiddick. His passenger Mary Jo Kopechne drowned in the vehicle. Kennedy fled the scene and didn't report the accident for 9 hours, for which he received a 2-month suspended sentence.
Source: Wikimedia Commons
21. Michael Jace (The Shield)
Jace was arrested in 2014 in connection with the fatal shooting of his wife, April Jace. His bail was set at $1 million.
Source: Screenshot
22. William S. Burroughs
In 1951 the Naked Lunch author shot and killed his wife, Joan Vollmer, during a drunken game of "William Tell."
Source: Wikimedia Commons
23. John Huston
The Maltese Falcon director John Huston killed a female pedestrian when he hit her with his car. He wasn't charged with any crime.
Source: Wikimedia Commons
24. Mitt Romney
The man who almost became president in 2012 accidentally killed his pastor's wife in a road accident while driving in France.
Source: AP
25. John Landis (Twilight Zone)
Twilight Zone director John Landis was acquitted of involuntary manslaughter after an accident on set led to the deaths of actor Vic Morrow and two children. He paid $2 million to each family of the children who died.
Source: Shutterstock
26. Lillo Brancato (The Sopranos)
The Sopranos star was arrested for the murder of an off-duty cop. He was eventually found not guilty but his girlfriend's father was convicted of the murder. Brancato was convicted of burglary and sentenced to 10 years in prison.
Source: Screenshot
27. Charles Dutton
Actor Charles S. Dutton killed another man in a fight at age 17. He was convicted of manslaughter and did seven years in prison.
Source: Shutterstock
28. Lane Garrison (Prison Break)
The Prison Break actor killed his 17-year-old passenger while driving drunk and on coke. He was sentenced to 40 months in prison.
Source: Shutterstock
29. Dwayne Goodrich
Former Dallas Cowboys cornerback Dwayne Goodrich was sentenced to 12 years in prison for criminally negligent homicide. He struck and killed two people who were attempting to rescue a man from a burning car by the side of a Dallas freeway.
Source: Screenshot
30. Howard Hughes
Reclusive billionaire Howard Hughes struck and killed a pedestrian with his car. He never faced charges.
Source: Wikimedia Commons
31. Aaron Hernandez
Former New England Patriots tight end Hernandez is awaiting trial for first degree murder. In 2013, his friend, Odin Lloyd, was found shot dead in an industrial park close to Hernandez's house.
Source: Screenshot
32. Tony Stewart, Nascar driver
NASCAR driver Tony Stewart hit and killed another driver, 20 year-old Kevin Ward. The two drivers had a minor collision on the track. Then when Ward exited his car, Stewart drove back around the track and struck Ward with his car. Stewart was later cleared of any wrongdoing.
Source: AP
33. Robert Blake
The In Cold Blood star was tried and acquitted of murdering his wife, but found liable for her death in civil court.
Source: Getty
34. Jayson Williams
NBA player Jayson Williams accidentally shot and killed his limousine driver while playing with a gun. He pled guilty to aggravated assault.
Source: Screenshot
35. Rae Carruth
Former Carolina Panthers wide receiver Rae Carruth is serving 18-24 years in prison for murdering his pregnant girlfriend, Cherica Adams. He posted his $3 million bail and went on the run, only to be found hiding in a car trunk in Tennessee.
Source: Screenshot
36. Fay DeWitt
The Mork and Mindy comic actress was charged with murdering her husband after she allegedly stabbed him to death with a letter opener in 1965.
Source: IMDB